Newsletter Highlights
1. Advocacy: VOSAP Art from Heart – International art contest. launched. Theme:DISABILITY!
2. COVID-19 Relief efforts: 3,500+ people received Kits. Many more People need HELP!
3. VOSAP Collegiate: 26 interns started VOSAP Research Internship. Focus:DISABILITY
4. Accessibility: Webinar on Global Accessibility Awareness Day (GAAD) with Designbridge Foundation
VOSAP now on Instagram! Follow us on vosap.official. Monthly, 10,000+ visitors on website!
COVID19 pandemic and its impact on millions of Specially Abled People is SERIOUS. Our volunteers are doing their best and our appeal is to continue supporting our efforts. They are not only having low immunity and higher health risk but huge economic impact, survival issue for many. We have helped only 3,500+ people with grocery, PPE etc. but need on the ground is HUGE.
During this global slowdown, VOSAP decided to be creative with its programs to expand its impact by providing highly engaging opportunities to continue its journey of creating "Disproportionate impact".
1. VOSAP Art from Heart – International Art Contest: Connecting with millions at Emotional Level.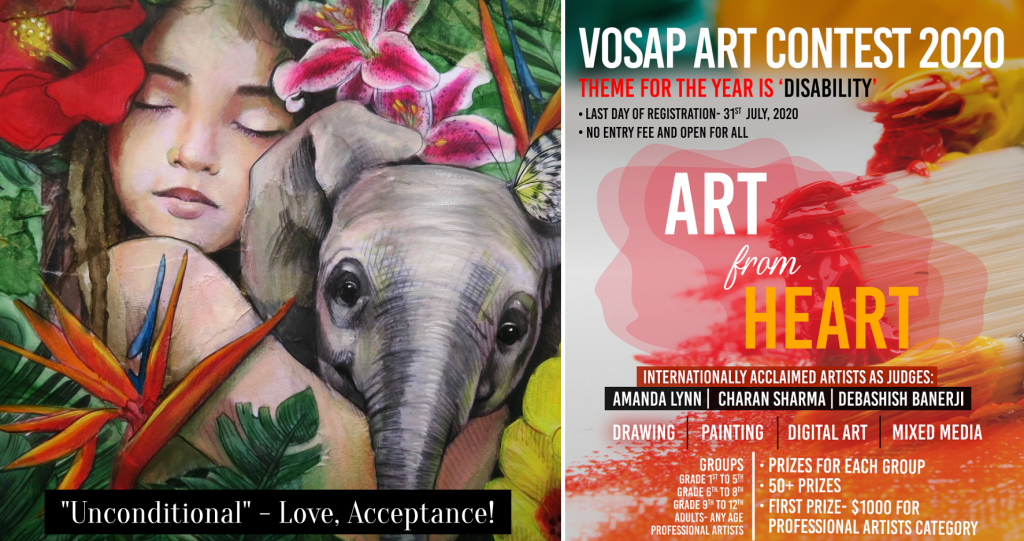 To inculcate inclusive values, compassion for everyone in society, connecting with them at emotional level is key. Creative form of Art work has ability to touch Heart of millions, worldwide! One can give profound, intense and thought provoking messages with their drawing, painting.
With this goal, VOSAP launched International Art Contest  – "VOSAP Art from Heart 2020", which is closing on July 31 2020. Theme is DISABILITY – everyone can participate to demonstrate their creativity to world renowned judges from the US, India and UK. In first month of launch, 700+ registrations form 12 countries have come, giving amazing messages on DISABILITY with creative artwork. Please inspire everyone you know!!! Opportunities for Sponsorship available!
–> Find details at www.voiceofsap.org or instagram (vosap.official) or FaceBook (voiceofsap)
2. Continued grassroots efforts to help Specially Abled People during COVID19 Pandemic:
With generous donations of VOSAP volunteers from the US, India and UK along with 17 multinational companies who matched employee donations, VOSAP has so far helped 3,500+ Divyangjan.
It may be easy to donate money but to take risk, to reach to those in need in rural parts of India is far more difficult, which VOSAP partner NGOs did it with such a dedication and grace. Blind People Associaiton (Gujarat), SNEH (Madhya Pradesh) and APD (Karnataka) ensured to deliver grocery kits and PPE kits to those Divyangjan (PwD) in need. We thank them for their commitment to the cause.
–> We encourage each one of you to step up your commitment to do whatever that you can to help SAP in community, take extra care as that is our role as volunteers and need of the hour like never before.

3. VOSAP launched Research Internship program:
During April and May, VOSAP Collegiate – youth volunteers (Manushri, Anusha, Hiranya) reached out to many schools, students across the US to encourage them for Research Internship during summer for undergraduate and graduate students with VOSAP in the field of disability.
45 students applied and after rigorous interview process, 26 VOSAP Research Interns were selected (from USC, UCLA, NorthWestern, Cornell, NCSU, UNC at Chapel Hill, UT at Austin, BU) to start on June 1 for 10 weeks of research. 15 very interesting topics in disability field are identified and 4 weeks of work is complete! Amazing energy, talent of these interns, truly inspirational for EVERYONE as how our youth wants to make social impact with VOSAP. Sparsh Shah, motivational speaker and youth ambassador of VOSAP joined in 1st group meeting to inspire them. 5 teams of 26 interns presented innovative startup ideas too in field of disability!!!
–> VOSAP is looking at providing research and other opportunities to many more students with VOSAP Collegiate program, chapters in Universities to create more inclusive future leaders.
4. Webinar on GAAD (Global Accessibility Awareness Day) conducted with Expert Partner NGO:
Every year 3rd Thu of May is the day to promote awareness on Accessibility. 21st May was the day this year. VOSAP as a champion in accessibility with its innovative VOSAP app, organized educational webinar with VOSAP volunteers of Pune, India chapter. Abhijit ji, Kavita ji and Dhananjay ji are experts in building and digital accessibility with tremendous expertise and commitment to make every place, digital asset accessible. VOSAP volunteers from US also joined this highly informative webinar to learn more.
–> If you are also looking for helping Specially Abled People, please volunteer with VOSAP, Donate now! Visit our website (www.voiceofsap.org) or contact our volunteers for more details.