Newsletter Highlights
1. VOSAP Art from Heart: Theme:DISABILITY. 4,200+ artists from 52 countries participated!
2. VOSAP Research Internship:28 interns, 12 Universities, 14 Projects in disability completed
3. DII Framework: VOSAP introduces Disability Inclusion Index (DII) for Corporations, Universities
4.VOSAP celebrates 30th anniversary of ADA – Americans with Disabilities Act, provides insights
VOSAP mission reached to 2 MN+ people on Social Media in last 2 months!
Dear friends,
Trust you are keeping safe and have adopted life style with "New Normal" due to COVID19 pandemic. The global pandemic has definitely left a mark on the current state of world affairs but in multiple ways, our compassionate volunteers have stepped up their impact, contribution towards VOSAP mission. Here are summary updates. You can lot more details on our website (www.voiceofsap.org) under Projects, Resources and VDO Gallery!
1. Phenominal Response to VOSAP Art from Heart – International Art Contest: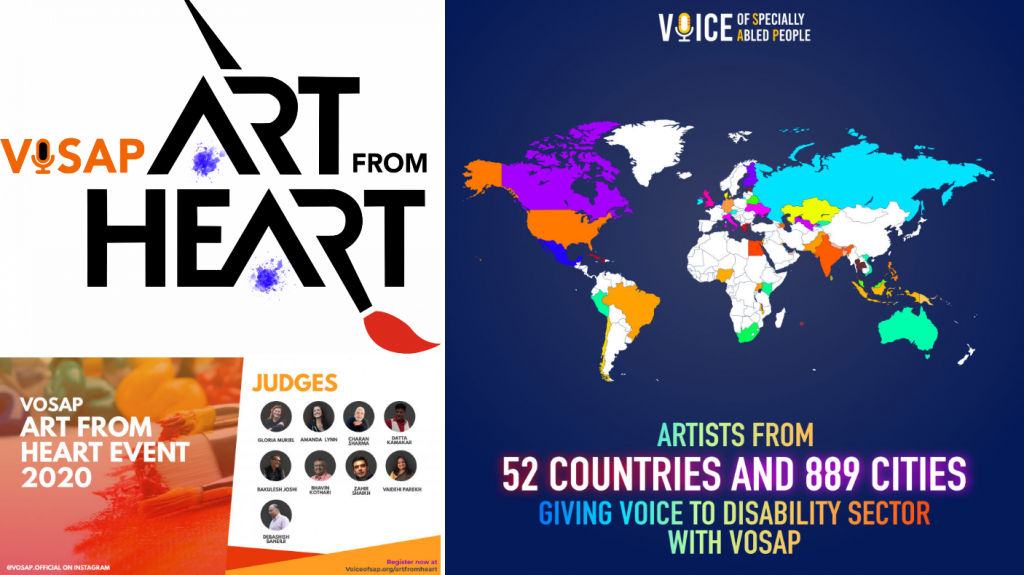 To take VOSAP mass movement to millions of people, VOSAP Art from Heart initiative was launched. 4,200+ Artists (from age 5 to 75!) around the world (889 cities) took the challenge to give message with creative artwork on DISABILITY as a subject. Art has no boundary, no language barrier – universal connectivity with all to invoke Global Social Transformation, advancing UN SDGs.
Now panel of 9 internationally acclaimed judges (4 from the US, 4 from India and 1 from UK) are busy evaluating each artwork (10 categories of artists). They all are doing this as proud VOSAPian, as their volunteer commitment to the cause. 50 prizes (1st for professional artist category – US$ 1,000) will be announced to recognize talented artists. We will have online gallery to view hundreds of selected artwork for millions of people to get inspired for Empowering SAP!!!
VAFH2020 team of volunteers, led by Hiten Shah has laid out plan for next 3 quarters. As a non-profit, we are looking for strategic partners, sponsors, donors, art lovers to join our efforts, support to drive global social transformation, reaching out to millions on social media to promote inclusion of 1 BN+.
Dec 3 2020: Online, Global Award Ceremony. Winners will be recognized in presence of dignitaries.
2. VOSAP Research program expands to University of California at Berkeley: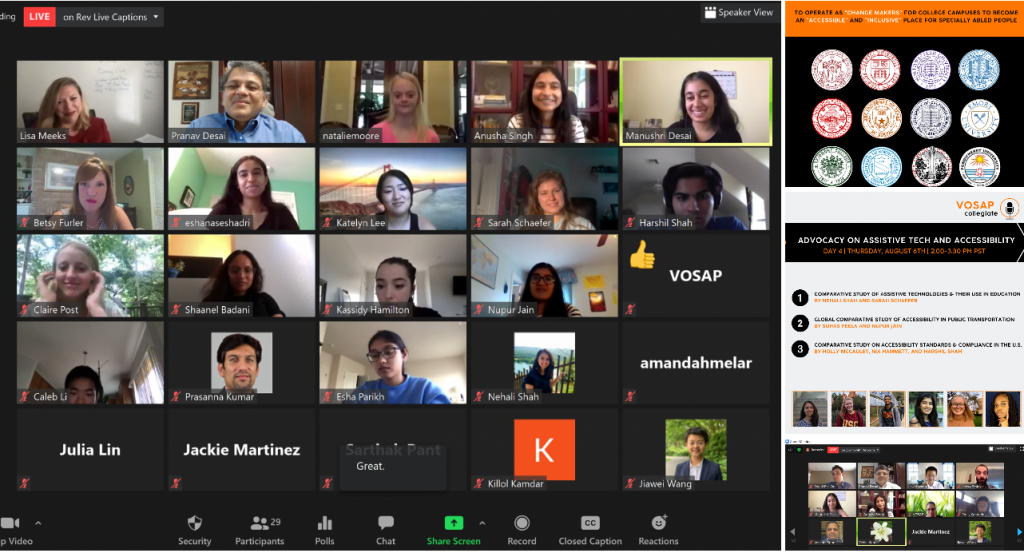 VOSAP Advocacy is now supported by Data, detail research efforts by compassionate, talented youth, students from highly reputed universities in the US. Disability sector is lacking evidence, data that can help change perception of people, policy makers and get inspired for action! 28 interns from 12 universities completed 14 research projects in Disability sector such as healthcare, assistive technology, accessibility, advertisement, DII, legal, big data analysis etc. 10 weeks of summer internship, intensive research efforts were managed by Anusha Singh and Manushri Desai, students at USC and co-founders of VOSAP Collegiate.
During final week presentations and during the internship program; renowned leaders, academicians, lawyers, experts in the disability sector joined the online sessions to provide guidance, inspire interns.
For Fall semester, VOSAP research program is introduced to UC, Berkeley's Data Sciences department. 22 very talented students have applied. VOSAP collegiate program is expected to roll out to several more universities in the US, India for now.
VOSAP is developing team of compassionate executives of tomorrow to change this world!
3. VOSAP Introduces DII (Disability Inclusion Index) Framework for Corporations and Universities

With growing focus of large corporations on Diversity and Inclusion goals, VOSAP created comprehensive Framework to measure Disability related inclusion index with proprietary tool set to not only measure the index but also to improve it year over year to help achieve UN SDGs by 2030.
The framework, methodology and tools addresses internal and external matrix on various aspects of disability such as employment, advertisement, products, accommodations etc. DII for Universities has its own framework to help improve inclusion of SAP in education.
America is celebrating 30th anniversary of landmark legislation – ADA. While lot of progress has been achieved in infrastructure upgrades, even 2018 data shows that only 15% have bachelor or higher education (6.4 MN) and out of that only 33% (2.1 MN) were employed. This clearly indicates ADA has long way to go. Wall of exclusion exists despite much larger awareness among corporations, universities.
DII framework is a solution for compassionate corporate leaders to Adopt, Act, Achieve inclusion.
–> If you are inspired to help Specially Abled People, please join, learn, follow us on instagram (vosap.official), facebook (voiceofsap) and Linkedin. Join as volunteer, Donate now!
Visit our website (www.voiceofsap.org) or contact our volunteers for more details.
Please take care, stay safe and keep embracing Inclusion of SAP, more so now than ever before!